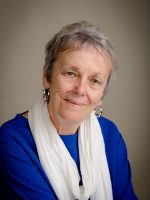 Chrissie was born in Birmingham and now lives on the Suffolk Coast with her husband Ashley.
For many years she was a Diabetes Specialist Sister and after retirement spent some time as a presenter on a local Community Radio station.
Over the years Chrissie has written several short stories but it is the first time she has submitted any for publishing.
The idea for these stories came about after she was out walking in the woods. She saw a fairy door carved into a tree and decided to write a story for the two youngest grandchildren about the fairies who lived in the fairy house.  One story led to another and with the encouragement of her husband she decided to have them published.
She believes that all little children should be given the opportunity to have an insight into the world of childhood fantasy and magic. With that in mind the stories tell of how the fairies help to keep children safe during the pandemic, hold birthday parties, get lost, make new friends and help to save us from pirates.