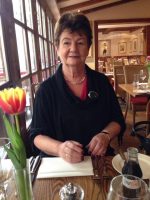 Clare is proud of the fact that she is a Limerick poet. So far she has published three books written under her "non de plume" Glynn Sinclare. The Emigrants, thoughts and feelings that are her's from the heart. Many times in her youth Clare would not express herself in writing or poetry as she feared a look of disapproval. That lack of interest, the shutting down.
Now Clare writes for herself, for her enjoyment and she finds if she enjoys what she does others will too. It is how happy Clare is when she writes, it occupies her in an occupation that is totally absorbing and rewarding. Clare goes out and about and reads her poems from both her books, Poetics Book of 100 Poems and Poetics Volume 2 at venues such as Bucks Mills poetry festival, The Poetry Cafe – Covent Garden and Schools.
Three Limerick Artists gave permission to add a copy of their paintings to complement Clare's poems. The three artists are Kate Hennessy, whose art can be found at Fineartamerica.com. Myra O'Reilly, a renowned Limerick artist, her work can also be purchased at Fineartamerica.com. Joyce Shee, who floats between the Burren County Clare and Limerick City, her art can be found  Russellgallery.net I am very grateful to them all.
Clare also has her work regularly published on Spillwords.com, please see the links below  to read some of her published works.