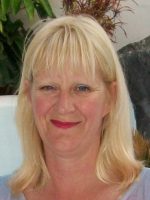 Maria Hawkes lives in Yorkshire. She wrote this book to describe her personal experience of living with MS and how yoga helped her cope with her disability. Maria says:
"Please let me tell you about my life so far and how and why I trained to become a Yoga Teacher. What it was that lead me to the path of Yoga in the first place. How some treatments I have tried, have helped me along my journey.
I have lived with Multiple Sclerosis for over 11 years and found different ways to deal with it. I have looked for Holistic Therapies that have helped me alongside the Yoga and  various Support Groups.  I have tried to figure out what may have caused the very existence of M.S, from my perspective and looked at how it may have began developing, from my childhood to present day.
Determination to keep the M.S under control is what motivates me daily.
Maria Hawkes is a Yoga expert and runs classes to teach the art to others but she also suffers from multiple sclerosis.  
She found that by using Yoga methods it had a profound effect on helping her cope with this crippling disease and also helped to stem its relentless progression.