Introducing the second edition of the highly popular title Executive Protection – The Next Level by Richard Hardaker.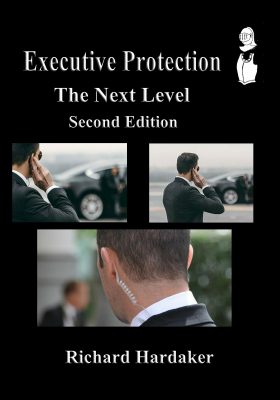 The already popular book and Close Protection (CP) training manual has been updated by Richard and in addition now includes two new sections.
The first:
Advanced Walking/Foot Formations:
There will be many occasions when the client is obliged to leave the relative safety of their home, vehicle or office and move on foot.  This may be because it provides some form of recreation or, occasionally, because of political or other reasons the client has to mix with a crowd that may be hostile.  Walking drills have been developed, combining formations and drills to escort a client on foot and provides a degree of protection compatible with their image. The provision of a Protective Security Detail (PSD) to a client in the first place resonates that the client is at risk from one of many quarters. It's essential to expect the unexpected when with a client.  That way, you'll be prepared to deal with an incident more professionally and with a robust response.  If you approach the day with a negative mindset, your day will most likely be doomed.  A CP team can operate as a multiple or as a single operative, but the risks associated with clients can be common for both
And the second:
Close Protection Training:
The mandatory specialist training received to qualify and be granted the regulated CP operators badge in the first instance prepares an individual to enter the industry as fully equipped and versed in the operational art of providing the basic levels of service to a potential client.  The client would expect nothing short of a professional individual or group of individuals to protect them from the world's uncertainties from both criminal and terrorism-related events.  You're also there to provide a safety net for them from the day-to-day risks that we all encounter daily.  You will need to be both physically and mentally alert to fulfil the demands of the CP role.  No half measures and no second chances.  Training provides all the essential elements to keep the team sharp and alert and to be able to deal with situations in a well-controlled and balanced way.
These new sections add another dimension to the book which, for anyone involved in either in the CP or CP training will find invaluable.
The new edition is now available via the authors webpage here, via Amazon here or in any good bookshop near you.